Cider Sips: Apples and Oranges from Hamilton's at First & Main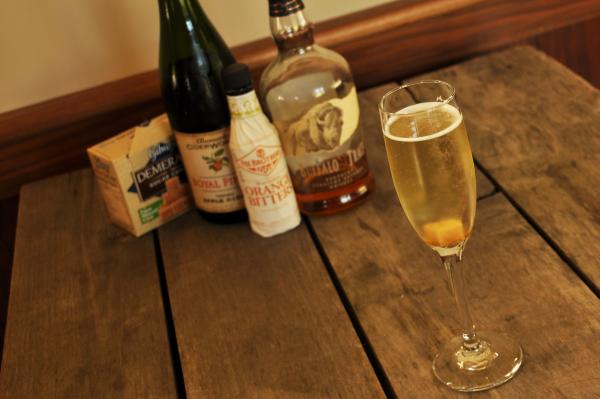 I had the pleasure of tasting this cocktail for the first time during VA CiderWeek 2012 at the bar in Hamilton's at First & Main in Charlottesville.  Hamilton's created it specifically for CiderWeek, and it has now become a staple on their drinks menu.  This cocktail is one of my personal favorites- as I grow older, I find that I'm less impressed by sweet flavors and have become more attracted to the kind of bitterness found in citrus peel, dark chocolate, french roast coffee, etc.  That being said, balance is always appreciated, and this drink has it.  It's also one of the least complicated mixed drinks in my (limited) repertoire, which is about all I have the wherewithal to put together at the end of a long day.  The short list of ingredients also highlights the cider, rather than simply using it as filler.
In a champagne flute:
One cube raw sugar
Dash or 3 of Orange Bitters (to taste- you can always add more!)
Top up with chilled cider of your choice- Hamilton's uses Royal Pippin, I use whichever I have on hand, usually Jupiter's Legacy or Old Virginia Winesap
To finish:  gently float a layer of bourbon on to the top, via the back of a spoon.  Whiskey will do in a pinch. If you want to be really fancy, a la Hamilton's, rub a twist of orange zest around the rim of the glass, then deposit the zest in your drink.
The sugar will dissolve in the effervescence of the cider, and lend just a tinge of sweetness to the whole glass.  If the last sip or two seems like it will be too sweet for you, top up with more cider and repeat!
For more cider cocktail recipes and ideas, visit our Pinterest page at http://www.pinterest.com/albciderworks/cider-cocktails/