Vintage Virginia Apples
and the CoveGarden Ruritan Club
invite you to our 21st annual
Apple Harvest Festival!
November 6, 2021 - 10am to 5pm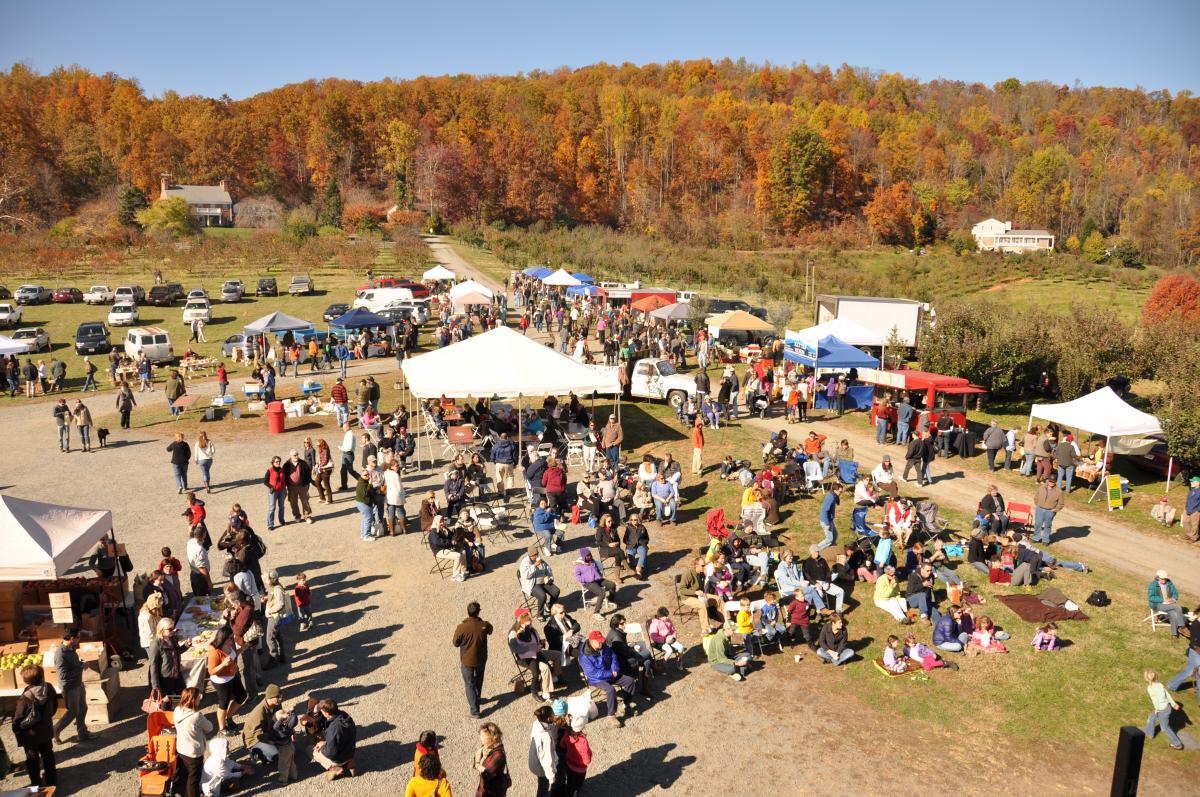 Festival Features
We are excited to invite you to join us on November 6th for our 21st Annual Apple Harvest Festival!
Rain or Shine: Join us for one of the most anticipated festivals of autumn, the Apple Harvest Festival hosted by the CoveGarden Ruritans and Albemarle CiderWorks!
Find many of your favorite farmers' market vendors, local artisans, and craftsmen demonstrating their skills. Enjoy Brunswick stew and apple butter or grab some to go.* Dig your teeth into a variety of apples and taste an array of CiderWorks' fine sparkling ciders. Dance the afternoon away with live music from local bands like the C'ville Jazz Congregation, and take a hayride around the mountain.
Drive-Thru Brunswick Stew
Not comfortable in a crowd, but still need your fall fix of Brunswick stew, apple butter, and fresh-pressed cider? 
CiderWorks Harvest Festival presents: Drive-Thru Brunswick Stew. Apple butter, stew, and fresh cider will be available for drive-thru pick up on Saturday, November 6th during our Apple Harvest Festival. Proceeds will benefit the CoveGarden Ruritans Club. 
Visit to Pre-orders will be accepted through Nov 2, 2021 and can be placed on our website.
Entertainment
Hayrides over the mountainside, all day
Live Music Schedule:


Apple Pie Contest
Enter a pie into the Apple Pie Contest. Entries must be made by 11:30am the day of the festival.  The first place winner receives a $100 gift certificate from Vintage Virginia Apples and Albemarle CiderWorks.  You will have to put your best foot forward to impress our judges: Heath Porter, Bridget Meagher, and Gail Hobbs-Page. Bring your A game!
Details for the Apple Pie Contest:
Please email fruit@albemarleciderworks.com to preregister.  Put "Pie Contest" in the subject line, give your name, phone number and why you want to enter or a little background about your recipe/method.
All entries should be turned in to the events tent by 11:30 on the day of the festival.
Once entered into the contest, the pie will become property of the CoveGarden Ruritan club to be sold by the piece after the contest.  Proceeds will go to their charitable efforts.
Each entry should be accompanied by a card with name, phone number and recipe (including crust ingredients and what varieties of apples were used).
All pies should be in a disposable pie tin.
Winners will be announced at 12:30, prizes will be awarded in person or via email.
Get to Know Our Vendors
Food Trucks
Full Vendor List
106 Street Food Truck

2nd Wind Records

Back Pocket Provisions

Blue Dot Watercolor

Blue Ridge Kettle Korn

Caramel Apples by Rachel Willis

Caromont Farm

Cozy Cabin

Customary Slates and More

Elena Day's Pies and More

Evergreen Lavender Farm

FARMacy

Georganne Lundt's Chair Recaning

Haiti Mission Craft Sale

Hope of Glory Farm

Hungry Hill Farm

Made with Love Acrylics

Masa Hiro Pottery

Mobilee Delicious

Muddy Creek Pottery

Pettigrew Woodworks

Rachel's Creations

Red Root & Co.

Shelton Herb Farm

Soapstone by Mark McQuarry

Taqueria mi Ranchito

White Oak Baskets by Clyde Jenkins