Vintage Virginia Apples was founded in 2000 by the Shelton family. In our orchard, we grow a variety of tree fruits that are becoming increasingly rare. Many of these are older varieties that have fallen into obscurity or just do not fit the needs of today's commercial marketing and distribution systems. Cast aside in the search for perfectly saleable, shippable and storable fruit are hundreds of heirloom and local varieties, a vibrant universe of texture, flavor and scent.  
We started with apples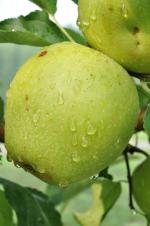 We began by planting a small array of interesting apples, which has grown now to more than 200 different cultivars, both heirloom and more recent varieties. We have collected about three dozen peach varieties, as well as several plums, cherries, nectarines and apricots. We have added pears to our collection and are testing varieties that will grow for us in central Virginia. Our nursery has grown from this love of vintage varieties, which we aim to share with like-minded orchardists by offering over 100 varieties of fruit trees from our collection through our fall/winter catalog which we post online each fall.  Many of these varieties are virtually unobtainable elsewhere.
Our catalog is online and we accept orders when the trees are dormant and best suited for shipping and planting. Our workshops have been well received and we are looking forward to expanding our offerings in years to come. In addition to other fruit culture topics, we plan to explore culinary and related crafts, such as vinegar making. In season, we sell apples and fresh cider at the farm.
Now we make cider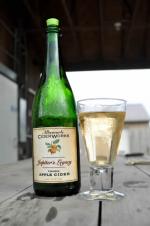 Our most ambitious project is Albemarle CiderWorks, which we opened in July 2009. We fermented and bottled three distinctive ciders which were very well received: Jupiter's Legacy and Ragged Mountain comprised our blended offerings, and Royal Pippin became our first single varietal.  In 2010 we introduced a fourth cider, Old Virginia Winesap, our second varietal, followed in 2011 by our third single varietal and first "Special Reserve," Virginia Hewe's Crab, a small batch that quickly sold out.   In 2013,  we are looking forward to releasing two new ciders, Pomme Mary and Red Hill.
We currently offer tastings of our distinctive ciders at our Tasting Room, which is open Wednesdays through Sundays, 11 a.m. to 5 p.m. Plan to visit us! We look forward to welcoming you to Rural Ridge Orchard for a tasting, a workshop or one of our events. Click here for a map and directions to our location.
How to find us
If you are using an Internet mapping program to get specific directions, the address to use is:
2545 Rural Ridge Lane
North Garden, VA 22959
We are less than 20 minutes from downtown Charlottesville, Virginia.