Cider Sips: Honey Badger Cocktail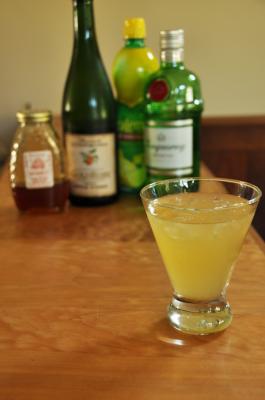 This is (hands down) one of my favorite cider cocktails.  I mention it often in the tasting room when asked for cocktail suggestions.  Due to the semi-recent popularity of the honey badger from a viral YouTube video, many people often chuckle at the title.  This cocktail is balanced enough to be able to use any cider with it but I prefer a dry cider.  It calls for honey syrup (to make it easier to mix) but I just use straight honey, mixing it into the gin and lemon before adding the cider.  The original recipe called for either cider or mead.  Of course, we used cider! 
Ingredients:
1.5 oz Gin
1 oz Honey (or Honey Syrup)
0.75 oz Lemon Juice
Hard Cider
Directions:
Combine the Gin and Lemon Juice in a glass
Add Honey and mix thoroughly (Or disolve the honey in a bit of water to make Honey Syrup)
Add Ice
Top off with Hard Cider
For more cocktail suggestions, visit our pinterest page.