Cider Sips: Josie Russell Cocktail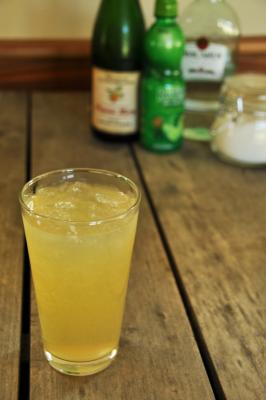 In our search for great cider cocktails, we came across an article by Garden & Gun about a book on Hemingway's cocktails.  The book includes a cocktail that Hemingway came up with while fishing on Joe "Josie Grunts" Russell's boat.  Intrigued, we whipped up a batch.  For our first pitcher, we used Jupiter's Legacy, a very dry and lightly citrusy cider.   While the overall flavor was great, this made it quite a tart drink.  Our second batch, we used our sweeter Pomme Mary.  The sweetness balanced out the lime a little better.   All in all a very refreshing cocktail that could be enjoyed at picnics, tailgates, or while sitting on the porch.
Josie Russell Cocktail
Ingredients:
4 1/2 oz Rum
12 oz. Hard Cider
2 oz. Lime Juice
2 tsp. Sugar
Directions: 
Fill a pitcher with ice, add all ingredients, and stir well.
Serve on ice in Collins or highball glasses, garnished with lime wedge or peel.
Serves two to three.
To see more cider cocktails, see our Pinterest page.