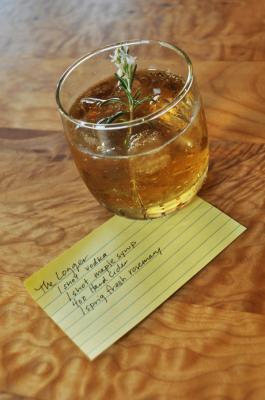 The weather has turned colder this week, and demands a cocktail that can warm a body up.  But how to achieve this effect with chilled cider?  Try the Logger!  Besides it's suggestion of flannel and cozy nights by the woodstove, this cocktail features a shot of maple syrup that adds a smoky warmth to balance the wintry vodka and cider, and the rosemary hints at the piney aromas enjoyed during a hike through an evergreen forest in late autumn sunshine.
The Logger:
1 shot vodka
1 shot pure maple syrup
4oz hard cider
1 sprig fresh rosemary
In a glass of your choosing, pour the cider over crushed ice.  We used our off-dry cider blend Ragged Mountain.   Add the maple syrup and swirl to mix, then add the vodka and gently swirl again.  Crush a sprig of rosemary and submerse it in your drink- or, for even more rosemary goodness, infuse your vodka with rosemary!  It's easy- "To infuse, place 4-5 rosemary sprigs in a 750ml bottle of [vodka) and let sit for 6-8 hours" (infusion recipe courtesy of Tito's Handmade Vodka, http://titosvodka.com/drinks/ontherocks/hippie-harvest/).  Grab a blanket and enjoy!
For links to this recipe and many other cider cocktail ideas, visit our pinterest page: http://www.pinterest.com/albciderworks/cider-cocktails/