Fruit and Flowers: A Celebration of 4 years of Cider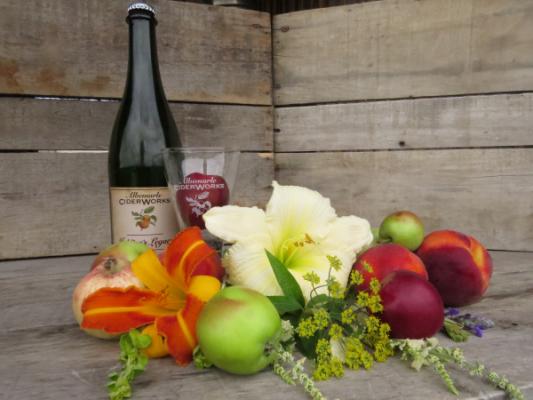 According to Wikipedia, the 4th year anniversary is customarily celebrated with "fruit and flowers" in the U.K. ("linen and silk" here in the U.S.). Four years ago, the fruit and flowers abounding at Rural Ridge orchard inspired the inauguration of our cider making operation here, and Albemarle CiderWorks was born. We produced three ciders in 2009: they included the Royal Pippin, a single varietal, and two blends: Jupiter's Legacy and Ragged Mountain. Today these three ciders still comprise the backbone of our lineup, amid a rotating cast of subsequent introductions. Additions include single varietals made from heirloom apples like Winesap and Virginia Hewe's Crab (plus a new, soon-to-be-revealed single varietal!), and the recently added Pomme Mary and Red Hill. This diverse lineup is an excellent illustration of what it means to be a modern artisanal cidery in Virginia, producing a drink with a rich historical precedence.
The heritage behind our particular take on cider stretches back to the English cider making tradition, which is long and storied in its own right. According to Ben Watson in Cider Hard and Sweet, "on their arrival in Britain, the Romans found the inhabitants making cider from the European crab apple" (p 15). From the Romans in 55 B.C. to the Normans in the 11th century A.D., apple growing and cider making in England was influenced by a number of invading cultures, some of whom brought apple cultivars and their own cider making traditions with them. Thus English cider became an amalgamation of traditions and tastes.
So it was a natural extension of that process that cider would arrive in the New World with the colonists and, like America itself, become a complex blend of old and new. English and European cultivars prized for cider making were planted almost as soon as the ground could be cleared for orchards. At the same time, new cultivars were being discovered, as a result of both the botanical fervor of the times and happy accident. Botanical collecting and cross-breeding enjoyed a heyday in the 17th and 18th centuries, as the agricultural experimentation practiced in the European monasteries of the Dark Ages trickled out into the secular world. As an important and popular crop, apples were particularly interesting to horticulturalists. Yeoman homesteaders who had carried apple seeds with them to the New World, or who were spreading the pommace from cider pressings on their fields, were growing new varieties by the wagonload. Apples are not self-fertile, so the seeds they produce contain genes from 2 or more parents. Thus, as in human offspring, each seed will grow into a tree combining characteristics from both parents and different from each parent tree. Each seed, or pip, produced a new cultivar, or pippin. Some of these American cultivars proved just as well-suited to cider making as their European progenitors, and thus a uniquely American cider was developed.
Here at Albemarle CiderWorks, that history is played out en situ. When the Shelton family moved to North Garden in 1986, they brought with them an academic horticultural curiosity, and practical agricultural experience. This lead to the planting of Rural Ridge orchard in the 1990s, with the encouragement and counseling of native Virginian orchardist and family connection Tom Burford. Although the dry, crisp, and clean style of cider favored by the Sheltons shares some qualities with English cider, English cider apple varieties in general are decidedly unhappy at the fairly low elevation here, and in the high heat and humidity of the central Virginia growing season. Thus, many mostly American, mostly heirloom apple varieties were planted here, including Virginia Hewe's Crab, Virginia Winesap, Harrison, and Albemarle Pippin, developed and vetted throughout colonial and early American history for hardiness, taste, and cider suitability. Those cider apples best suited to our Virginia climate tend to be a bit sweeter overall, with acid, tannin, and aromatic levels differing slightly from those of the English (and New England) cider apples. And so, we present to you a uniquely Virginian array of proper cider.
So next time you pop open a bottle of our Virginia cider, take a moment with that first sip to taste the bouquet of fruit and flowers brought to you by centuries of cider history. Better yet, join us July 20th and 21st to celebrate the beginning of Albemarle CiderWorks' 5th year of making cider here at Rural Ridge Orchard in North Garden, VA. We'll celebrate our American cider heritage with live old time music from Farm Use String Band and Firecracker, locally grown and produced fare from Carpe Donut and Greenies, seasonal, sun-ripened fruit from our own orchard, games on the lawn, and CIDER of course! Open 11am-6pm, music 2-4pm. Wear your linen and silk, we'll supply the fruit and flowers!