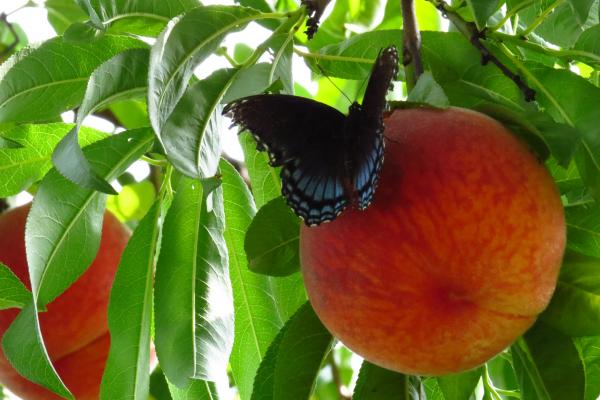 "Hi, I just stopped by to see if ya'll have any peaches yet?"
July- the June bugs fill the air in the peach orchard, looking for an opening in to the ripening fruit.  Each year the fruit harvest follows a slightly different rhythm; this year the first peaches to come in, a small- to medium-sized semi-cling variety called Candor, were ready about a week earlier than they were last year.  Then we got all that lovely cool weather, and it slowed things down again.  This week, it's the juice of the clingstone donut peach Flat Wonderful running down our chins, right on track with last year's harvest date for this variety.
Whether early or late, the seasonality of the peaches and apples goes something like this: smaller, clingstone eating peaches ripen first (usually around late June), early cooking apples around the same time, followed by freestone eating/processing peaches mid to late July, followed by complexly flavored, multiple purpose apples through late October.  The best "keepers," apples that do well in and actually develop even better flavor during winter storage, come in last and may be available from late fall into spring.  
As each year goes by, we are doing our best to keep notes on when each variety reaches its peak harvest window, and we will keep you updated via our newsletter and especially via our facebook page, where you can view the farm market availability for each weekend.  But it is a moving target- calling ahead is always a good policy, especially if you have a long drive to get here!
So the answer is Yes, we do have fresh peaches and apples right now, but what type/variety/flavor are you looking for?  If you're not sure, try perusing our weekly availability and the varietal descriptions on our website.  And of course, you can always call or visit for a chat with the experts!