A Little Bit Bigger and a Whole Lot Better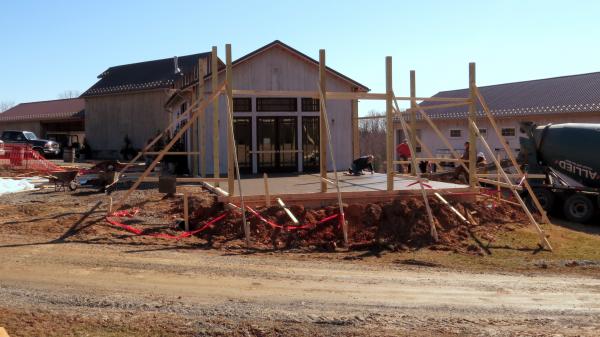 There are currently 230 wineries in VA, over 70 breweries, and 8 cideries, so how does anyone ever choose where to spend their precious weekend hours?  
Every weekend, a number of you choose to spend your time at Albemarle CiderWorks, and it's from you that we hear a lot of feedback on what sets us apart enough to make it to your short list.  Some of the top reasons we hear over and again include our extra-informative cider tasting, our intimate setting and less-hectic feel, and of course our carefully crafted sparkling cider.  As cider has gained ground in recent years, we have seen a definite uptick in the number of visitors to Albemarle CiderWorks, especially in the popular fall season.  While we take this increase in business as a heartening sign that we're doing something right, we also want to continue doing right by you, by continuing to offer as much history and tasting notes on our cider as you'd like to hear, to give you a comfortable place to relax and take in the music and other special events we offer, and give you the opportunity to visit with friends and family, both yours and ours.  
To that end, drumroll please... we're growing!  As I type this, the construction crew is hard at work framing the roof over the concrete floor slab that was poured yesterday.  The extra space is being added directly adjacent to the original tasting room, where the patio and tent were previously located, and the patio will be swung out towards the parking lot and orchard.  The addition will feature quite a bit of glass, in a modified conservatory style, most of which will open in fair weather.  In foul weather, the built in stone fireplace will keep you warm and toasty.
If all goes as planned (fingers crossed here), the new addition will be finished and the fireplace will be roaring by early April 2014, just in time for our first annual Spring Bloom Festival!  Keep an eye on our web calendar and facebook/twitter pages for more details on this new event, and others.  The expanded space will also allow us to expand our music offerings, and we already have a number of fine local acts signed up to serenade you this year.
A big thank you to all of our wonderful fans and friends for helping us to make this addition possible, and cheers to a big year in 2014!  Come out and see (the new) us, we'd love to see you!