New Cider Release: Wickson Crab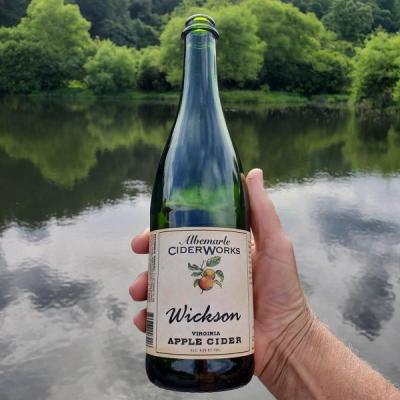 Our single varietal Wickson Crab cider is a new introduction for us this year.
A relatively unknown apple, the Wickson Crab is an Albert Etter cross of a Spitzenburg and Newtown crab.Descriptions of the apple often erroneously describe it as an Esopus Spitzenburg and Newtown Pippin cross. Etter was noted for wildly experimental plant breeding, and was notably successful with strawberries though less so with apples. He is best remembered for the red fleshed varieties he produced. Wickson however may be the best of his varieties. Because of its high sugar content, reputed to be 25 percent, Etter thought it would be useful for an apple champagne. It is also highly acidic. Because of its diminutive size, the apple is only suited to cider making; in 1944, when Etter patented it, no one was looking for great cider apples. In the 1990s, with emerging interest in cider, it was welcomed for adding alcohol and acidity to cider blends.
Our Wickson presents a single varietal of this exceptional apple. It fermented out to 9.5% ABV and presents an aromatic herbal note hinting of tarragon or anise. On the palate, one notes sour cherry, strawberry and cream, and a certain briny quality to its minerality. It pairs well with cheeses, duck dishes, & dishes featuring tarragon.
Links to purchase below:
VA, DC, CA, FL, MN
Other states
Shipping is not currently available to:
Alabama
Arkansas
Connecticut
Delaware
Kentucky
Michigan
Mississippi
Montana
New Jersey
Oklahoma
Rhode Island
South Dakota
Utah