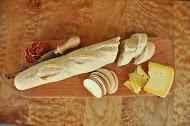 The crisp weather of autumn is upon us, and that means it's apple season! While we have been picking apples since about mid-August, the number of varieties ripe and ready to eat, cook, and make cider with has been growing steadily. And if, like us, you enjoy drinking your apples as well as eating them, we invite you to try two new Virginia hard ciders from our orchard!
Saturday, September 21st we are releasing our two newest cider bottlings, with flavors just right for pairing with the bounty of Autumn. One of our classic ciders – Old Virginia Winesap – will be making a return to the lineup, accompanied by a brand new single varietal made with the modern Gold Rush apple. The Gold Rush apple, introduced from the PRI apple program in 1993, has seen a boom in popularity due to its sweet-tart flavor profile and fresh, firm texture. We've fermented this single varietal into a clean, dry cider with a crisp acidity and overtones of grapefruit.
The party runs from 11-6 pm; come by for a tasting of all 6 Albemarle CiderWorks ciders, and hang out with a picnic basket of treats tailored to pair with each of these delightfully different styles of cider. Enjoy games in the field and live old-time music by Alex Caton and Dick Harrington, from their recently released album Swimming to Lindsey, 3-5 pm on the patio rain or shine. There will also be an array of apple varieties available, tree-ripened in our orchard and ready to taste and take home.