Vintage VA Apples/Albemarle CiderWorks at the Charlottesville Farmer's Market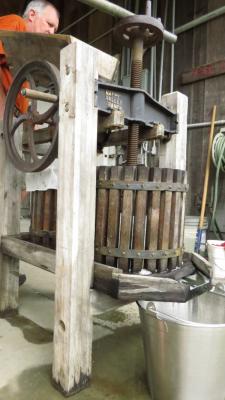 It's August, and that means the cider production is done (until this coming fall) and the peaches are coming in heavy, so this Saturday we'll be packing up the truck and taking a haul down to the Charlottesville City Farmer's Market. Look for us next to 2nd Street under the Vintage Virginia Apples banner. We'll be bringing all sorts of peach varieties, perfect for canning, baking, and of course eating fresh. As always, we let our peaches ripen on the tree for the most intense flavor, but of course this means they won't last long. So come ready with your canning supplies, your favorite cobbler recipe, a pint of cream, or just a strong appetite for some fresh peaches! And if you're out of ideas, check out our Recipes page, or you can always pick up a bottle of Jupiter's Legacy and make a Sunday morning Bellini.
In other news, we're working with Virginia Food Works on a second batch of applesauce. The little wooden apple press was "pressed" into action at the barn yesterday to make a few gallons of fresh juice to sweeten and give the right consistency to the sauce. Mixed into 600 lbs of last season's GoldRush (yes, they store that well) and this season's Lodi, this batch has a slightly different, but still scrumptious, flavor. We've got a few cases of the first batch that we'll have at the market on Saturday, as well as in our tasting room. It's kid-approved, with no preservatives and no added sugar. If your favorite grocer isn't carrying it, just tell them to call the Local Food Hub!