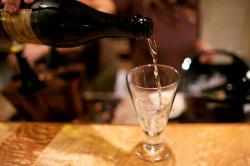 Join us in celebration of VA Cider Week at Meriwether Springs Vineyard on Sunday, November 17th from 5-9pm.
Chef Amalia Scatena of Pippin Hill and her crew will create an array of small plates, passed dim sum style on the patio overlooking the vineyard. Enjoy a casual atmosphere and the freedom to enjoy the local bounty alongside ciders from Foggy Ridge, Albemarle Ciderworks, Castle Hill, Blue Bee, and Potter's Craft. 
Tickets are $65 and proceeds support the VA cideries.
Reserve your space today by clicking the link below