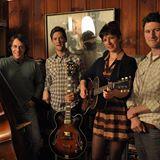 "Get Right" at Albemarle CiderWorks this Saturday with Sabra Guzman & Tom Marshall, 3-5 pm.  
"Armed with the smoke, noise, and feel of the honky tonks, The Get Rights are not your typical tribute band, and not riding the wave of any fads... they're gettin' right with what's been put down in front of them from greats like Hank Williams, Bob Wills, Milton Brown, Patsy Cline, Dolly Parton & Jean Shephard.
Whether performing as an intimate acoustic duo, or a full-fledged 5-piece band, The Get Rights step up to the plate and bring all that classic country has to offer. . . the stories, the heartaches, the trysts, and even the gentle reminders of what love could be."
No cover charge, drinks and light fare available, or bring a picnic.  Music is rain or shine in the tasting room or on the patio.