Repeats every month on July, August on the second Sunday 3 times.
Sun, 06/12/2022 -

11:00am

to

5:00pm
Sun, 07/10/2022 -

11:00am

to

5:00pm
Sun, 08/14/2022 -

11:00am

to

5:00pm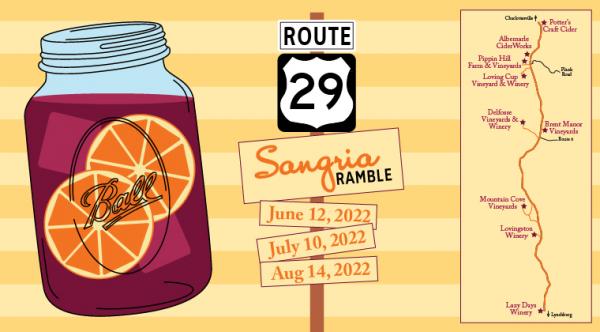 Join the Route 29 South wineries and cideries for our 2022 Sangria Ramble! We've got the secret to beat the heat and keep you refreshed all summer long. 
 Visit any of the 9 participating wineries and cideries to try their unique twist on Sangria. Follow each location for the details and individual offerings available on three days throughout the summer: June 12th, July 10th, and August 14th!
 All guests have a chance to win some insane prizes. Over the course of the three Ramble dates, visiting 4 unique locations will get you a sticker…visit all 9 and leave with a signature Sangria Ramble glass. Visitors of all 9 locations will also be entered into a drawing for our Grand Prize: a dinner for 2 at Red Pump Kitchen! 
 *No purchase is required to receive punches or entry into the Grand Prize drawing.
 Participating Wineries/Cideries:
 Albemarle CiderWorks
2545 Rural Ridge Lane
North Garden, Virginia 22959
Brent Manor Vineyards
100 Brent Manor Lane
Faber, Virginia 22938 
Delfosse Vineyards & Winery
500 Delfosse Winery Lane
Faber, Virginia 22938
Lazy Days Winery
1351 N. Amherst Hwy
Amherst, Virginia 24521
Loving Cup Vineyard & Winery
3340 Sutherland Road
North Garden, VA 22959
Lovingston Winery
885 Freshwater Cove Lane
Lovingston, Virginia 22949
Mountain Cove Vineyards
1362 Fortunes Cove Lane
Lovingston, Virginia 22949
Pippin Hill Farm & Vineyard
5022 Plank Rd
North Garden, Virginia 22959
Potter's Craft Cider
1350 Arrowhead Valley Road
Charlottesville, Virginia 22903