Sat, 06/22/2019 -

2:30pm

to

4:30pm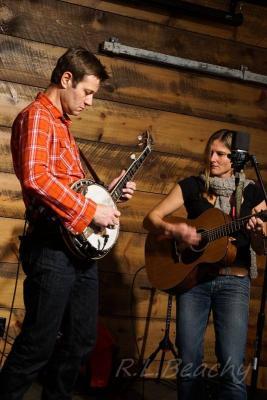 Inspired by the Blue Ridge Mountains and the rich musical traditions tied to them, Tara Mills describes her music as, " original mountain americana;" an original blend of folk, bluegrass, and americana.
Writing and singing most of her life, it wasn't long before Tara picked up a guitar and taught herself how to express the melodies in her head through her songs and hauntingly beautiful lyrics. Influenced by bluegrass, old country, and traditional mountain folk, she creates an original sound that captures true human feeling and emotion.
Based out of Charlottesville, VA, Tara plays and writes in a couple of different musical projects. In Tara's current project, Tara Mills and Jimmy Stelling, she combines her lyrics and voice with Tennessee native Jimmy Stelling to create a very powerful yet driving original sound described as a mix of modern day folk, bluegrass, and americana.
Jimmy Stelling is the son of Geoff Stelling, founder of Stelling banjos, and plays in the successfully touring band, The Hackensaw Boys, out of Charlottesville, Virginia. Jimmy's unique drive and tasteful melodies on the banjo compliment and harmonize to the sweet songs and emotion the two capture while playing.
Tara Mills and Jimmy Stelling have played at many music festivals including DelFest, The Festy Experience, Bristol Rhythm and Roots Reunion, Red Wing Roots Music Festival, Campout East, Camp Barefoot, Misty Mountain Music Festival, The Crozet Music Festival, The Blue Ridge Oyster Festival, Mountain Cove Music Festival, and many other venues, radio and television broadcasts, and on the internet.
To find out more about Tara Mills and Jimmy Stelling, click here.
Music is from 2:30 to 4:30, rain or shine, no cover charge. Cider and light picnic fare is available for purchase.