Apples: The Best Apples to Buy and Grow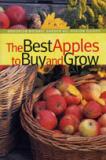 by The Brooklyn Botanic Garden
From the back cover:
Your indispensable field guide to the crispy, crunchy, intensely flavorful apples increasingly available at supermarkets, farmers' markets, farm stands and orchards. Use this handbook to discover some of the tastiest antique and modern varieties, and how to use them for cooking, baking, cider making or eating fresh.
Whats inside:
-A beautifully illustrated guide to 60 antique and modern apples
-Tasting notes for each variety
-The best apples for cider and pie
-The fascinating story of apple cultivation in North America
-Practical tips for growing apples at home, including an apple hedge for a small space
-Mail-order sources and more.
Paperback, 115 pages