Cider Hard and Sweet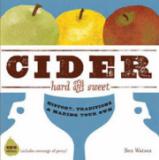 by Ben Watson
From the inside jacket:
Drinking fresh, or "sweet" cider is an annual American tradition, its taste reminiscent of crisp fall days, bright foliage, and ripe fruit. And recent years have seen a resurgence of an even older custom - the making of "hard" (alcoholic) cider, which was once the drink of choice in England and the Americas. Today many types of hard cider, from the simple to the sophisticated, are readily available as a lighter alternative to grape wines or a refreshing alternative to beer. What many cider lovers don't realize, though is that this elegantly simple beverage is incredibly easy to make, and that producing excellent homemade cider, both hard and sweet, is well within the reach of any home-scale enthusiast.
In this richly informative and entertaining book, Ben Watson explores the cultural and historical roots of cider. He introduces us to the different styles of cider - including draft, farmhouse, French, New England, and sparkling, as well as apple wine and related products like apple juice and cider vinegar - and gives complete instructions for how to make them yourself at home with a minimum of time and equipment. This new edition provides new cidermaking basics tailored to both beginning and intermediate cidermakers, with an all-new chapter on perry (pear cider); more information of barrel fermentation and making naturally sweet hard cider; and new recipes for cooking with cider and making and using traditional products like boiled cider and cider jelly.
Cider, Hard and Sweet teaches readers how to recognize good cider, and encourages us to make the leap from buying store-bought cider to making the genuine article at home. A fascinating cultural document as well as a how-to book, it will appeal to anyone who appreciates good food and drink.
Ben Watson is a writer, editor, and food and farm activist, and the author of several books including Acts of God: The Old Farmer's Almanac Unpredictable Guide to Weather and Natural Disasters and Taylor's Guide to Heirloom Vegetables. He is also coauthor of Passport to Gardening and The Slow Food Guide to New York City. He lives in New Hampshire
Hardback, 179 pages