Ciderland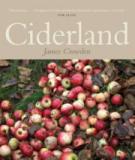 By James Crowden
From the back cover:
The South-west of England is justly famous for its wide variety of delicious ciders. Although the drink has been produced there for centuries, over the last thirty years there has een a quiet revolution in the industry characterised by a steady growth in the number of new cider producers. These cidermakers vary from samll, local companies to well-established outfits pumping out millions of gallons a year.
In Ciderland, James Crowden explores the history and culture of cidermaking (and cider-drinking) from the seventeenth century to the present day, and takes us on a tour around the West Country and beyond, visiting a large number of cidermakers who communicate a rare and infectious passion for their age-old art. He also takes a look at the rise of perry-making and profiles the people dedicated to getting the best out of their local pears. One very important section covers the history of sparkling cider and the evolution of methode champenoise in England from 1632 onwards. In addition, Ciderland also includes comprehensive summaries and descrptions of most cider and perry producers from the Channel Islands to Herefordshire. The result is a magnificent companion to a drink that is enjoying a widespread and well-deserved renaissance.
James Crowden was born in Plymouth and bought up on the edge of Dartmoor. After Bristol, Oxford and the Army, he lived for various periods in Afghanistan, the outer Hebrides and the West Country, and has worked as a shepherd, sheep-shearer, cidermaker and forester. He has written numberous books, including several volumes of poetry and local history, and also appears regularly on TV and Radio 4.
Paperback, 252 pages