Craft Cider Making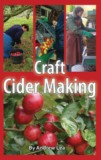 by Andrew Lea
From back cover:
This book is for anyone who wants to grow and to make good cider or even simple apple juice. Whether you have a back garden with a couple of apple trees, several acres of orchard deep in the countryside, or you're just 'scrumping' apples from friends and neighbours every autumn, this book is for you.
Here you can learn about the equipment you need, the techniques to use and just how they work as they do. You'll also learn what to do when things go wrong, and how to put them right! Packed with a wealth of practical experience and understanding, Craft Cider Making is for beginners and old hands alike.
Andrew Lea is a retired food biochemist who started his career in the tea industry and then spent 13 years at the Long Aston Research Staten (National Fruit and Cider Institute). For the past 20 years, he has been a hobby cider maker with his own small orchard and cider press and has won many prizes at national and international cider competitions.
Paperback, 135 pages