Sat, 07/12/2014 - 11:00am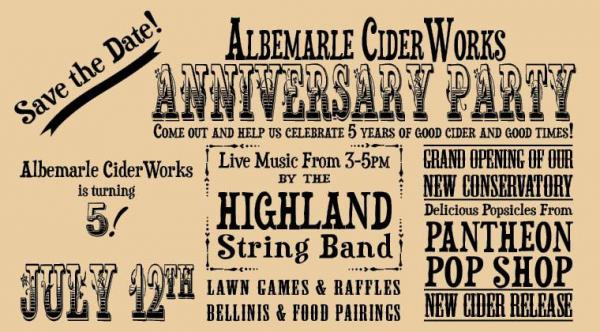 Albemarle CiderWorks will celebrate five years of producing premium Virginia ciders on Saturday, July 12th.  A new cider release and the official grand opening of the newly built Orchard Room addition to our tasting room will headline the day's festivities at our North Garden orchard and cidery.  
Albemarle CiderWorks was started by the Shelton family in 2009, in the early days of cider's rebirth in Virginia.  From 3 cider offerings and a small tasting room in 2009, the business has since grown to a 3,000 case per year production level.  Albemarle CiderWorks has also become a major player in the promotion of artisanally produced Virginia ciders on a state and national level, through collaboration on Virginia CiderWeek and an appointment to the United States Association of Cider Makers.   Albemarle CiderWorks now offers 7 premium ciders crafted from Virginia apples.  The cider release on July 12 is the newest batch of "Red Hill," a dry, distinctive blend capturing the pastoral flavors of the red clay terroir where the apples are grown.  
The growth in cider production and popularity has been concurrent with a growth in visitors from all over the world.  More space to accommodate guests became imperative, and so in February 2014 construction began on the tasting room addition at Albemarle CiderWorks.  Built to custom specifications by Minor Wilcox and crew, the modified-conservatory style addition boasts a rock fireplace and numerous windows and sliding doors, allowing for comfortable accommodation in any season.  The slate floor was laid by local tile experts Mike Oliva & Sons, and has seen one square dance already.  The new space will be used to host a number of musical acts, plays, and other events for the community, including the 2nd annual Dark Skies Bright Kids Star Party and the 14th annual Apple Harvest Festival put on by Vintage Virginia Apples.
The celebration on July 12 will also feature complementary local food pairings with the cider tastings, peach bellinis, Albemarle CiderWorks' swag giveaways, and musical entertainment by The Highlander String Band.  Fresh peaches from the orchard will be ready to eat, and lawn games like cornhole and bocce will be available.  A la carte picnic items are available for sale.  This family friendly event runs from 11-5, with music from 3-5 pm.